French language is coming soon.
SSL Certificates
Only GlobalSign gives you the strongest SSL encryption, the fastest secure page load time and around the clock malware & phishing protection for your website.

GlobalSign is doing more than any other Certificate Authority to improve how you use and rely on SSL - find out more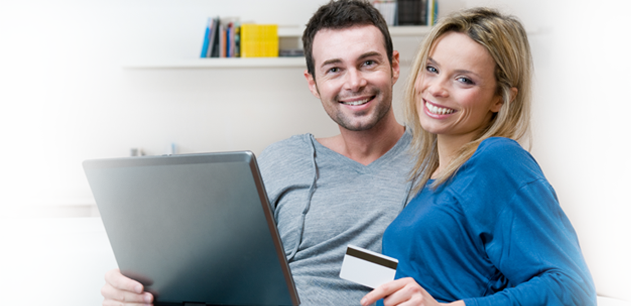 Tell a friend
Your Name : *
Your Email : *
Friend's Email : *
Friend's Email : (2)*
Friend's Email : (3)*
Message :
Enterprise SSL Solutions:
Managed SSL For Enterprise
A centralized web platform to easily manage multiple high assurance SSL Certificates.
Volume & EDU pricing
Pre-vetted identities and domains
Instant issuance
Granular user management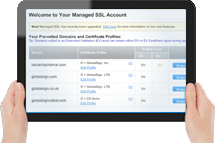 Individual SSL Certificates
Domain SSL
Fast & Economical
Trust Level
Quick issuance SSL Certificate & Secure Site Seal. SSL without any paperwork or fuss & delivered in only minutes!
Price : 349$ (1 year)
Organization SSL
High Assurance SSL
Trust Level
High assurance SSL with full organization vetting displays enhanced levels of trust and security.
Price : 349$ (1 year)
Extended SSL
Activate the Green Address Bar!
Trust Level
The highest assurance level of website trust - visitors see the green bar and enhanced trust means enhanced sales. EV SSL is preferred by all major online brands.
Price : 899$ (1 year)
Multi Domain SSL
& Wildcard SSL
Secure multiple domains and sub domains on the same server with a single SSL Certificate & single IP address with Wildcard and Subject Alternative Names (SANs).
NOT SURE WHICH TYPE OF CERTIFICATE IS RIGHT FOR YOU?
Compare SSL Certificated & Pricing
---
Why Choose GlobalSign
Strongest & Fastest SSL

GlobalSign has been 2048 bit since 1998. Our IPv6 enabled global infrastructure ensures your website receives industry leading secure site load speeds in the industry.

Malware & Phishing Detection

GlobalSign SSL provides ongoing security services. StopTheHacker monitors your website for malware, Netcraft's phishing alert service notifies you if a phishing attack is detected.

Get the Support you need

SSL can be confusing, but our Client Services team is here to help every step of the way. With offices around the world and local language support, we pride ourselves on our excellent reputation




Universal Device Support

GlobalSign SSL is transparently trusted by all browsers, applications and devices. All visitors, no matter what device they use, will automatically trust your SSL security.

Accredited Security Audits

GlobalSign is audited for WebTrust annually by Ernst & Young and has been compliant since 2001. The company is active in the CA/B Forum & Trusted Internet Movement.

Cost Saving & Convenience Features

Receive "Premium" features free of charge (other providers charge extra) - install your Certificate on as many servers as needed and use the same Certificate for both www.example.com and example.com.
---
Customer Testimonials
See what our Customers have to say
GlobalSign was able to deliver the platform and EV SSL products that meet our operational and security requirements and have helped make the switch to EV SSL Certificates straightforward.end quote image


Dow Group

it is one of the best companies in the region.


Middle East Airlines