French language is coming soon.
Tell a friend
Your Name : *
Your Email : *
Friend's Email : *
Friend's Email : (2)*
Friend's Email : (3)*
Message :
Instant issuance of highly secured, trusted SSL
Managing SSL, especially in hosting environments, requires a good understanding of the technology, and SSL often results in unnecessary costs through a number of technical issues.

OneClickSSL is a revolutionary SSL system which rewrites the SSL paradigm and turns the SSL Certificate lifecycle overhead into a simple, easy to deploy solution, saving website administrators time and costs, and allowing hosting companies to focus on their core business and not SSL installation problems.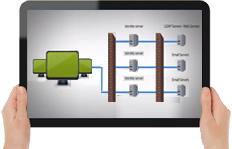 Easy set up and Voucher Ordering:

---
Platform Features:
Full automation with voucher-initiated process

Customers obtain a Secure Site Voucher for the product and validity period of their choice.

When the Voucher is entered into any one of the OneClickSSL plug-ins, the plug-in transparently creates the CSR for the correct website, validates the domain, installs the issued certificate and binds it to the website, all in under a minute!

Hosting Companies can even use Trial, Monthly & Supervouchers to remotely administer SSL to customer websites - activating SSL en masse for thousands of websites with ease.
Direct integration into control panels & webservers

OneClickSSL can be easily deployed using one of the plugins for cPanel, Plesk, IIS, DirectAdmin or Apache. APIs and an open source PHP library are also available for custom integrations such as those deployed into the ISPsystem and other environments.

Once a plug-in is installed, you just need a Voucher - available from your hosting company or directly from GlobalSign. OneClickSSL Vouchers can also be obtained via GlobalSign's SSL reselling modules in WHMCS and HostBill for simplified customer billing (other platforms coming soon).

Hosting Companies - contact us today for instructions on rolling out the plug-in across all of your customers.
Best Security Practices

OneClickSSL takes the pain out of best security practices by enforcing the strongest key size and algorithm choice. And being based on a true multi-factor authentication technique, the plug-ins provide the highest security levels in these times of increased threats.

Something the user is - A 2048 bit RSA private / public key pair

Something the user has - A domain that is registered on the DNS system and is verifiable to an IP controlled by the user

Something the user knows - The OneClickSSL Voucher
Taking SSL out of the 90s and into the future

Managing SSL has been a time consuming, error prone and poorly understood process since the 1990s. Little has ever changed, in fact, it's only been made more complex!

OneClickSSL changes all this. It makes the traditional process 100% redundant, instead automating all the complexities and only relying on the customer to enter a simple Voucher code. SSL has been rewritten from the bottom up!
OneClickSSL Reviews From HostingCon 2012

At this year's HostingCon we performed live demos of OneClickSSL in action on cPanel. Our audience members got to see firsthand just how quickly and easily you can install an SSL Certificate using the OneClickSSL system.

"It was the easiest process for installing an SSL cert I've ever seen."

"It's easy. It's simple. Literally, just enter in your voucher code, click, and it's done."

Check out our highlight reel for more audience reviews of OneClickSSL!